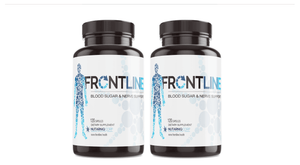 Frontline Health
FRONTLINE BOGO
Sale price Price $159.99 Regular price $199.99
Before You Go!
If you don't want to be friends any more thats ok... but we care about you and your health!
As our gift, if you buy 1 Frontline Blood Sugar & Nerve Support we will give you 1 FREE bottle. 
This year has made us all realize that our health is precious and not to be taken for granted. 
A global health crisis has brought uncertainty everywhere…
And this "second wave" could be impacting your health more than you think. 
Many health experts predict we will experience a "second wave" of diabetes issues related to this new spike of cases. 
So let me be as honest as I can be: 
You need to make absolutely sure your blood sugar and your health is as strong as possible… because the world is going to throw everything it can at you over these coming months. 
Which is why this parting offer is so essential. Frontline Blood Sugar & Nerve Support is the natural health solution proven to: 
Stop food cravings
Boost your metabolism
Improve blood sugar
Give you a natural energy that lasts all day
Protect against diabetes complications like nerve pain 
Start taking control of your health today with the most powerful natural nutrition therapy product available without a prescription.
Dr. Evan's research shows that early improvements in energy levels and insulin sensitivity can be noticed in some users after just 2-weeks and most users will notice lower blood sugar levels and a decrease in food cravings after 2-months of use!